HandPhone is an electronic media used by someone for communicating etc. HandPhone very useful for all people, so that almost all people have an android phone in this world.
Use of android phone depending on the user, want to use for work, plays or searching match. But, in using the android phone you must be careful because something can happen like blocking, theft, or lost the phone.
Many happen case lost phone because stolen or forgetfulness. But quiet, with development technology then very easy track existence your phone. For it follow ways following for meet your phone.
1. Android Device Manager (ADM)
ADM is an application used to track the existence of the android phone with the use of GPS in the phone. The following steps u can follow.
After downloading this application, login in using email on the lost phone.
Write your email account and password with the right, then they will appear phone name connected with the email.
Then will appear address from the lost phone.
This matter will succeed if the lost phone in a state on.
2. Google Account
Next for track phone with using google account. Gmail account that is on google the phone can be utilized to track the existence of the phone. Follow steps following for track phone using google account.
Login on google account in the lost phone in another smartphone.
Be sure the password is right.
Then press the menu in the top right.
Then select Find My Device.
Continue with choose the lost device and write an email and password in the device.
Then press Find.
Then will appear map which describes the location existence of your phone last time.
3. Find My Device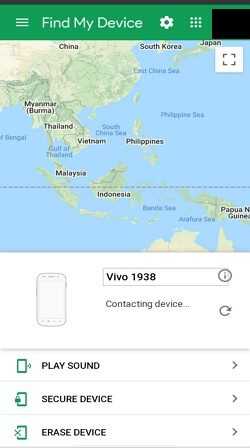 Using features Find My Device is the option easiest done. This option already available on all smartphones.
Apart from can track the existence of your phone, this option also helping you for giving information to the inventor of the phone for calling the owner. Following steps using it.
Be sure lost phone connect with internet, google account and location.
Find My Device application in lost handphone must on.
Then open Google Find My Device in the browser on another phone or computer.
After open, log in with your email used in the lost phone.
After success login then has multiple choice options is delete all data stored, lock or sound the device.
If lost in your around then you can select sound the device so that it can be found. But if stolen should be select lock option.